Ryan Oyer Band dual album release show
with Megan Howard
on Saturday July 28, 8pm.
@ Barking Legs Theater, 1307 Dodds Ave. Chattanooga
Admission $10. Admission plus both CD's, $20.
Those who have been keeping up with Ryan Oyer's live performances know he is beginning a solid career as a rock & pop songwriter and performer. The production of his new album Metamorphosis has gained the support of the top level stage performers in his home town of Chattanooga. Many of whom appear as his backing band on this recording. An almost universal appeal permeates Ryan's music and the stage performances of the Ryan Oyer Band as they draw on Ryan's songwriting and vocal skills and overall good guy stage presence. Riffs from accomplished players such as Butch Ross, Mike McDade, Callie Harmon, Mark Holder and others prop up the solid nature of Ryan's music with backing vocals by Amber Fults & Megan Howard. A veteran of many solo performances in Chattanooga Ryan has earned the right to stand alone as a performer and now the full band and studio project is giving his progress a hefty boost into the level of acts that are ready to play the bigger stages in front of larger audiences. He's a totally original songwriter but Ryan is often mentioned in the same sentences as his major influences, Oasis & The Beatles when descriptions of his style are floating around the rooms he plays.
The Ryan Oyer Band's opening set for Chattanooga's downtown Nightfall concert on June 22nd gave us perhaps his most dynamic and confident live performance yet with an excellent stage sound quality which delivered a clearly heard, powerfully and tightly played set, with instrumentation from Mike McDade on bass Callie Harmon on guitar Gabriel Newell on drums and Ryan on guitar and vocals. On July 28 You'll get to hear this group show us their live chops on Barking Legs Theater's newly upgraded sound system which has made this venue, in my opinion, one of the best sounding rooms in the southeast.
Links to Ryan Oyer's online E.P. "Chrysalis" containing 6 outtakes from his new Album, "Metamorphosis" can be found at www.ryanoyer.bandcamp.com
Chatanooga Times Free Press article on Ryan Oyer from feb. 2010
A special deal is being offered by the performers to people who attend their Barking Legs Theater Dual Album release. Ryan Oyer's new 14 song CD "Metamorphosis" and Megan Howard's new studio E.P. "Atonement" will be offered together for $10 to those who attend this show.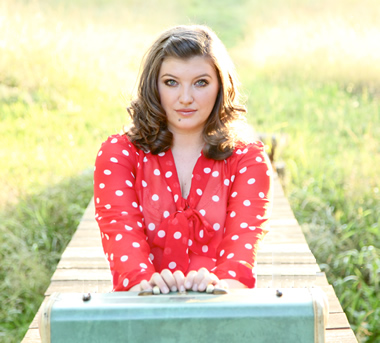 Megan Howard
Much talk has been circulating abolut the reserve of talent in Chattanooga these days. Here's proof that a powerful and noteworthy new voice has arisen from this musical community and is ready to be noticed by the mainstream. Megan Howard has the confidence to go after the dream of recording her first studio release with some of Nashville's finest sessions musicians. And the result is a potent collection of lushly arranged songs and surprising vocal abilities that sound like they were made to be spinning off the top pop & country airwaves, sometimes reminiscent of Lisa Loeb but with a Nashville twist.
Listed as folk rock, this album titled Atonement generates a pro-artist in-studio vibe in the format of a seven song E.P. which is an accomplishment rarely attempted on a debut release in this era of cutting corners and stripped down economizing. Megan's initial release features Grammy Winning producer/engineer Ronnie Brookshire & his Area 52 productions at the board of Classic Recording Studios in Franklin, TN. And her stage band consists of Chatanooga musicians Scotty Mattos & Josh Bates from Long Gone Darlings with Mike McDade (busy guy!) This collection of studio recordings promises to make a convincing resume' to land Megan Howard much sought after vocalist spots for studio sessions and potentially even mainstream airplay.
Megan Howard's Reverb Nation page
Megan Howard's hi-res photos
Contacts: requests for interviews, print ready photos and demo recordings for broadcast media are available Directly from the artists.
Ryan Oyer - RyanOyer@gmail.com
Megan Howard - meg1032@hotmail.com
More songs and info are available on the artist's websites www.RyanOyer.com and Ryan Oyer on Facebook,
Megan Howard music on Facebook
Please inform us of any writeups by your publication, broadcast or blog on these artists so we can link back to You in our online promotions.
~Robin Merritt
*ArtFRONT Sponsored Events A new approach from ArtFRONT Presentations allowing Up and coming artists enjoy a professional stage presentation on their own terms and at the time of their choosing, design their own promotion, determine their own expenses and retain all their ticket sales. This show is the first production of this new series!