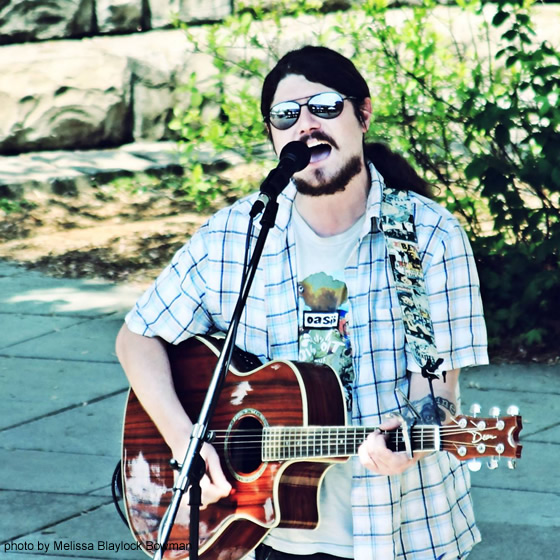 RYAN OYER
has done everything a musician is supposed to do to develop himself into a stong voice, solid player and a melodic and memorable entertainer. By playing every gig he could get his hands on for several years in his adopted hometown Chattanooga TN the Detroit native has become the go to see musician of choice for that city's nightlife regulars. Ryan is the kind of performer who's personable nature never dilutes his professional sound quality and his songs stick with his fans who seem to learn the lyrics of nearly every new number he writes. Not only is he a solid original songwriter with a very recognizable voice but on those nights when Ryan is contracted to play for 3 or 4 hours straight Ryan has learned how to turn a gabby crowd of partiers into amazed fans who marvel at his multi song catalog in live performance. Ryan's ability to corral and work with other musicians gives him true versatility as a performer, whether he is holding down an entire barroom venue alone as a solioist or is orchestrating an entire band through his song catalog, complete with cello and backup singers. Ryan's first full length album release "Come Together" was a record parked at the intersection of Gallagher Lane and Abbey Road. The Chattanooga songwriter had already become well-known for insightful love songs wrapped in Beatlesque melodies and that album showcased those songs beautifully. Oyer's 2nd full album, "Metamorphosis" represents a big step forward and embraces a wide array of influences. Whether toughened up with his full rock band, backed by a few members or performing solo "Metamorphosis" is the sound of a man coming into his own. Ryan is currently working on a new album and EP set for release in 2014.
PRESS AND REVIEWS
"Ryan Oyer is without a doubt the best singer/songwriter in Chattanooga. Oyer's music has a pop sensibility that is able to display not only thoughtful lyric's, but put them to a melodic symphony."
Dave Weinthal - Enigma - 2013 http://enigmaonline.com/concertreviews2013.htm
"I've been watching Ryan Oyer's development as a songwriter and front man for as long as he's been on Chattanooga's music landscape. One good way to guage a musician's effectiveness is by watching the reaction of the audience. Recently I'm noticing multiple audience members singing along with not just his older, most familiar songs but with nearly all of them. Ryan's confidence, perseverance and relentless performing are the missing ingredients of many other talented singer-songwriters who fall by the wayside. Expect to keep hearing Ryan Oyer's name and songs for a long time to come."
~Robin Merritt - ArtFRONT Presentations
"There is nothing particularly difficult about writing a song or unique about being a songwriter. Writing a good song is an altogether different matter, and good songwriters are few and far between. It was a stroke of good fortune, then, to find that Oyer is one of the good ones, a singer and songwriter worthy of the titles."
Marc Michael - Chattanooga Pulse 2013 http://www.chattanoogapulse.com/music/singersongwriter-street-cred/
"There are plenty of artists who claim to be inspired by British Invasion bands, but their impact on Ryan Oyer doesn't end at the buttonhole on his Beatles guitar strap."
Casey Phillips - Chattanooga Times Free Press "Singer Ryan Oyer embraces Brit Rock influences"
Booking, Publicity and Promotion
Contact MySecretIdentity.org Agency through the email address at left for concert booking, promotional info, artist interviews, high res photos for print media and demo recordings for broadcast media.
RYAN OYER ON TOUR
* During the Winter & Spring months of 2014 Ryan & the band will be concentrating on the southeast and eastern region of the USA. Please contact us with your available dates for full band or solo performances.*
STAGE PLOT/ INPUTS
Ryan Oyer Solo:
1 vocal mic. 1 DI for acoustic guitar, vocal monitor.
Full band:
We bring...2 Electric Guitars w/ amps, 1-2 Acoustic Guitar, Drum Set, 1 Bass w/ Amp
Please provide...2 Direct Boxes for Acoustic and Viola. 2 Vocal Mics. 2 -3 Instrument Mics. Drum Mics (if necessary) 2 or more vocal Monitors.