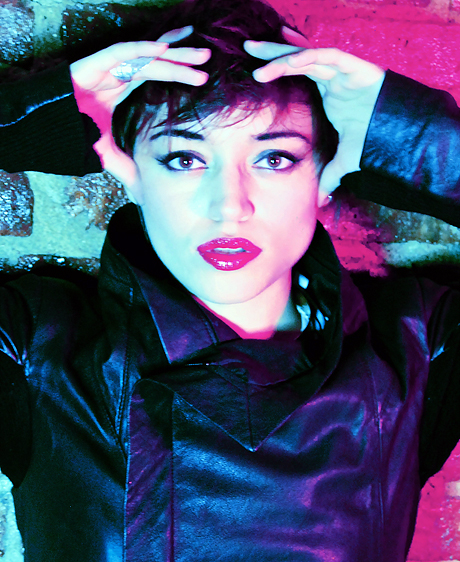 Ana Lola Roman
is a multi-instrumentalist, sound designer, choreographer, singer / songwriter in Brooklyn, New York and Berlin, Germany. To categorize her music is difficult, but her compositions command a physical effort on part of the listener, be it through dance or reflection. Her striking visual presentations and inventive recording process has made Roman a subject for directors, photographers, and conceptual video artists in both the US and Europe.Many of Roman's samples and beats were recorded inside the hidden landmark of TEUFELSBERG, an abandoned CIA station located outside of Berlin and in New York City. During this process Roman began to overlay vocals with percussive piano rhythms, bass guitar and self-programmed synthesizers and drum machines. In March, 2010 she toured Germany, Austria and Denmark armed with what she calls "a rough guerilla sample of songs" on the EP "Kreuz Wave" that sold out at shows across in Europe. She garners her influences from flamenco, tango, classical, Cuban "Son" music, 80s pop, modern dance, Sheffield Synthpop, Industrial, Flexi-Pop, Cabaret Voltaire, Severed Heads and German minimal wave.
Since May 2010 Roman has resided in Williamsburg, Brooklyn concentrating on writing more songs. Recently TOM ELLARD, founding member of the 80s Australian experimental electronic group SEVERED HEADS gave Roman his approval to cover and remix two songs he released in the mid-80s. JEAN LUC SINCLAIR, producer, sound engineer, and recording assistant for the likes of TRENT REZNOR and SCISSOR SISTERS have joined her in the process. Sinclair, Ellard and Roman have since been collaborating throughout the current recording process for her upcoming full length album to be released in early 2011.
PRESS AND REVIEWS

"Ana Lola Roman's Canon of surreal songs, contradictory stylings, and Japanese music box hi-jinks won't let anyone get too comfortable in their seats on any night. Ana evokes a Thelonious Monk dancing with Joplin, Latin flourishes gone acidic. Her voice teeters from high Edith Piaf ecstasy to low Bowie-esque swagger, onwards towards a Nina Hagen schizophrenia. Her stage prowess is both withdrawn, unpredictable, and down right delicious."
~GAWKER.COM. 2007

"ITS SORT OF DAVID LYNCH MEETS THE CENTIMETERS"
~MOMUS, recording artist and founder of imomus.com

"Ana is making a name for herself as the new name in production and performance. She plays a thoughtful, bugged out electro that joins disparate sounds with solid grooves, and from time to time, a haunting vocal."
-Andrew W.K. - NYC

Ana Lola Roman is a Brooklyn synth-pop gem by way of Oklahoma who frequently pops up in Baltimore and Berlin, leaving a trail of lavishly strange dance performances and videos wherever she travels.
- Mishka Bloglin - NYC

Ana Lola Roman and her lavishly strange, fluttering synth-pop caught my ear a while ago after I noticed she had shows coming up and soundly confirmed her talents as an instrumentalist, uniquely tremelo-heavy vocalist, and magnetic stage personality.
- Nate Dorr Impose Magazine - NYC

Ana Lola Roman: Animated and unusual synth-pop, cavorting on stage with a certain charisma and lightly darting fingers for both keyboard and guitar.
- IMPOSE MAGAZINE- NYC

Ana Lola Roman's experimental electropop will leave quite the impression on you. This lady from Brooklyn "writes bizarre musical fairytales, driven by off-kilter piano, synths, and her unique vocal style".
- DISCONAIVETE

"Brooklynís Ana Lola Roman brings shiny, geometrically-complex dance beats that echo off walls around her enticing, otherworldly voice. A slinky treat, Romanís vocals come in clipped and choppy over the helicopter-like rhythms of her pianos and keyboards. " -GAWKER.COM

"Roman weaves abstract lyrics into obtuse keyboards and percussion caressed performance rock. It takes a while to warm up to her Lori Anderson inspired adventurism but Roman has the musical knack to keep it from becoming artsy fartsy schtick." - CREATIVE LOAFING, Charlotte, NC

"The bell-like tones of her voice nervously vibrate and hover somewhere between mythological ice queen and living theremin." - JEZEBELMUSIC.COM

"Ana Lola Roman has soundly confirmed her talents as an instrumentalist, with her uniquely tremelo-heavy vocal style and magnetic stage personality with the moves to prove it...." -IMPOSE MAGAZINE, New York

"This German/Spanish/Oklahoma Hybrid is Best known for tracks Sparrow, Some Volatile Shit Man, WaterTaxi, Temple Of Cats and WaterTaxi....Much like Laurie Anderson, Danielle Dax, Gang Gang Dance and Rainbow Arabia with elements like an eerie piano/synth and quivering vocal melodies, this artist, performance artist, singer, multi-instrumentalist, whatever you want to call her, always delivers the unexpected....." -IN MADRID MAGAZINE, Madrid, Spain

"Ana Lola Roman Wants in Your Head..."
- Casey Phillips CHATTANOOGA TIMES FREE PRESS

"Look out for Ana Lola Roman! Sheís like the punk-rock*, real life version of Uma Thurmanís character in Pulp Fiction. She even dances like her. "
- HOOVES ON THE TURF, New York

Magazine Article: Interview with Ana Lola Roman from "Cheap & Plastique" magazine by VIOLET SHURAKA

" An atomic bomb went off in her keyboards and she plays like she just short-circuited.
~DIRTY GLAM MAGAZINE , March, 08 UK/ France.

"I saw Ana Lola Roman live, at Luna Lounge. For me Ana Lola has been an enigma since she first appeared. I was drawn to her left of center approach to song writing and abstract lyrical style. Live, her piano and vocals take the lead to a laid-back rhythm section. This evening Ana sat at her piano and sang but the set still had theatrical feel to it. She defies comparison as a songwriter but the songs are so unexpectedl, and have such a genuine quality that it is nearly impossible to look away while she is performing, which is a testament to her originality.
~ERIC STEINER, "Crappy Advice" magazine, 2007

" She writes bizarre musical fairytales, driven by off-kilter piano, synths, and her unique vocal style. Her music is very unusual -- for me, it conjures mental images reminiscent of Jan Svankmajer's Alice, one of those visually abstract films which has seared a couple great scenes into my mind.
~GREGG IPPS, "Vice" magazine, 2006
Stage Plot / Inputs
For Fall/Winter 2010 Ana Lola Roman requires 2 Mics (2 VOCAL INS) and 2 Microphone stands 1 boom & 1 straight, plus one keyboard Stand. She will have her laptop for backing tracks which must be plugged into the board and Her Midi Keyboard which she will play live, plugged into the laptop. She will need 2DI's. We will provide the setup requirements for her drummer(s) depending on your performance dates.
Booking, Publicity and Promotion
Contact MySecretIdentity.org Agency through the email address at left for concert booking, promotional info, artist interviews, high res photos for print media and demo recordings for broadcast media.
Ana Lola Roman on tour
* During the Fall/ Winter months of 2010 Ana Lola Roman will be concentrating on recording her full length album and will be performing exclusively in the Greater NYC Metropolitan area. Please contact us with your available dates.*
A tight avant garde "piano math," danceable performance, not experimental but definitely indescribable. In no way is Ana Lola Roman retro. Ana loves to challenge and excite audiences with her 45-115min. set. She would be delighted to headline or open for like minded avant garde style rockers "outside the mainstream but soon to be the next big rage."